Building a Telehawk
PG4
The first step in book matching a top is to cut the long edges with the table saw. I use a thin kerf blade. Set the fence so the blade will cut exactly down the center of the edge, and then cut to full depth with several passes. I use a 10" table saw, and at full depth it cuts about 3 1/2"s deep.

You can see, even w/ my best care, the slot is not perfectly straight, and one edge has closed on the slot. This is common, so start with a board thicker than necessary. There is a tennoning jig availiable that can help keep the slots straight. Next we cut the remaining wood with either a band saw, or a hand saw. I often do this with a handsaw as it is easy and quick enough. A trick here is to use small wedges to hold the slots open and the halves apart on either side of the saw in order to reduce friction and ease any pressure caused by the boards moving (clamping together).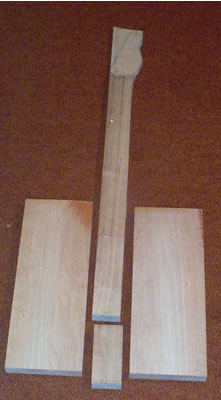 I next run the halves thru a thickness planer, or plane them by hand. If they are of highly figured wood, a thickness planer or hand plane may not do a very good job, so stop early and finish by sanding. I recommend a thickness sander here. You can usually find a local mill shop who will do it for you for about 5 bucks. (look for a shop who does custom cabinetry or mill work. i.e. mouldings)
Well, I ran out of camera space, so I need to take more pictures.