Welcome!!
site designed for 1024x
Fancy Slatboard guitar hangers...
I can supply you with most of the components for winding pickups if you'd like to try your hand at it. I am NOT looking to be a retailer for these items, and if you do get into it it'll be cheaper to buy in quantity as I do....
I can now supply you with all of the "vintage correct" hookup wire as used by Fender, Fralin, et all (22awg stranded tinned cloth "pushback" in black white and yellow) and Gibson (single 22awg stranded tinned in black cloth pushback w/ braid shield), This is the same stuff from the same supplier that they all use. (the stuff from Allparts and the like is close but not the same)Pricing is dependent on quantity.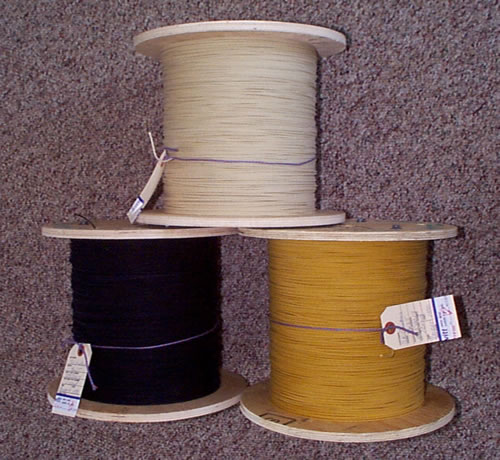 1000' of wire per spool shown here
Recent Updates:
Added Test data of different types of tone capacitors, comparative test of .047uf Ceramic Disk, Polyester Film, and Paper in Oil capcitors used as tone caps in an electric guitar. My results with spectrum analizer output graphs and supplemental data provided off site...
Added FEMM simulations of magnetic fields in electric guitar pickups
Added vintage pickup specs page with specifications for Gibson and Fender pickups as well as a few others.
Added new pictures and description of my newest winder made from a wood lathe.
Page 8 of building a TeleHawk is finally up!
Added series on installing a pickup in a finished body,details routing new pickup cavity. Added pages to the "building an electric" series. Added more information to the "factors affecting a pickup" page. Added photo essay on doing a complete refret. I'm sure there was more.....